Unveiling the Chelmsford Listening Bench
On Tuesday 18 July on the banks of the River Chelmer, the Chelmsford Listening Bench was declared open.
At 1 o'clock the sun was shining, a light breeze was blowing and a crowd of fiends, passers-by, relatives of contributors and the volunteers who had worked on the selection of voices, gathered for the ceremony.  After a short speech from the mayor of Chelmsford Councillor Duncan Lumley, I cut the ribbon and pressed the first button. I was really delighted to have been asked.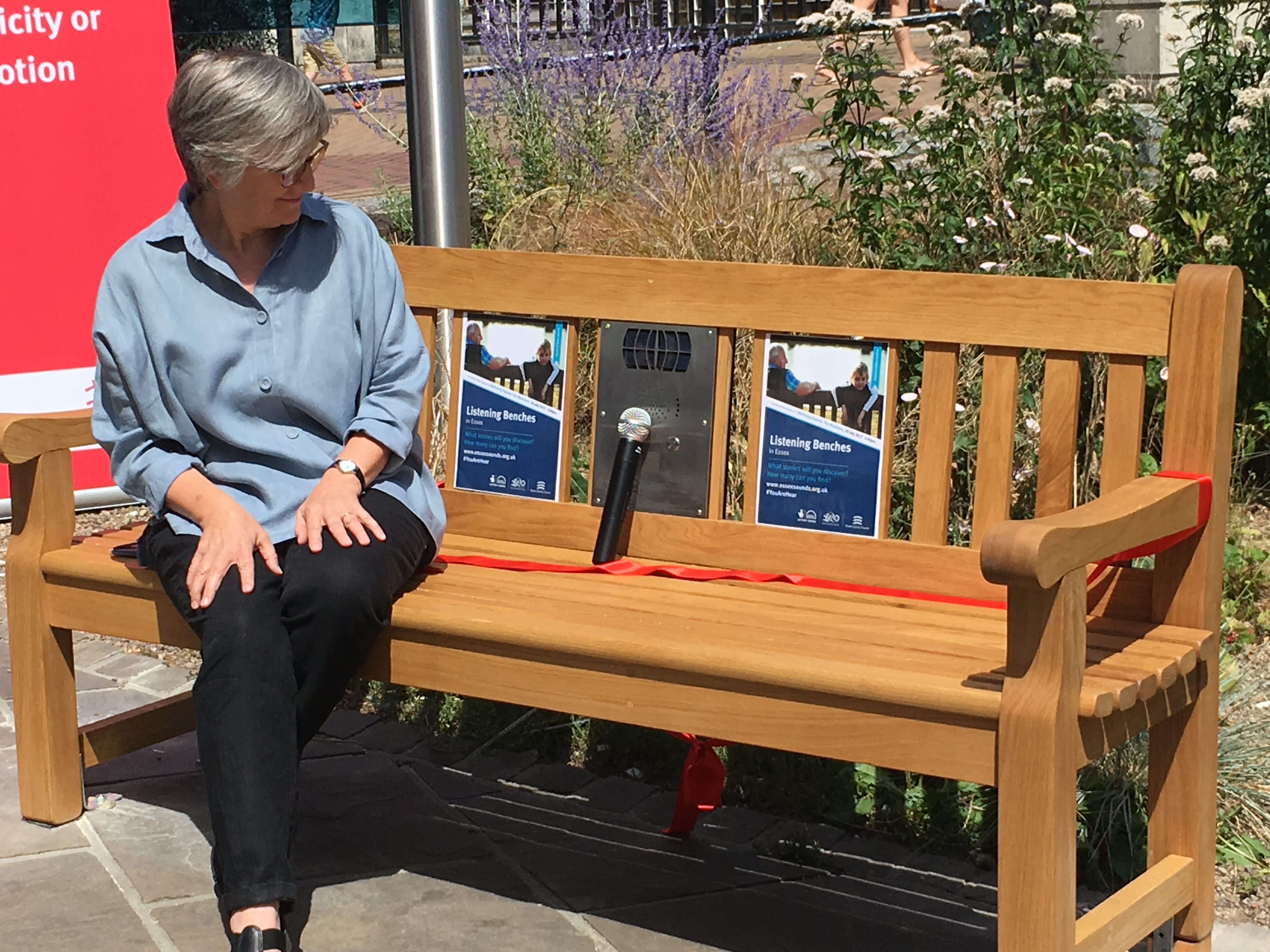 The night before I had been able to listen to the recordings – a selection made from a great number of oral history recordings for the Essex Record Office. One recording was from a man born in 1909 who remembered Chelmsford in WWI, another recording is from someone born in the 20s, who went out walking all day with her friend with a jam sandwich, when Chelmsford was so much smaller and surrounded by fields. Someone else remembered when Hoffmann's ball-bearing factory was bombed in WWII.
After I had cut the ribbon a man came up to me to explain he was the son of the man born in 1909. What was also wonderful was that he had been a mod, with a scooter and had gone to the Corn Exchange on a Saturday night. We swopped a lot of names. Who knows, he may have stood behind me in the Orpheus in the queue for a frothy coffee and a glass of hot blackcurrant.
What is a listening bench?
It's a bench with a panel of buttons that anyone can press and, through built-in speakers, hear local people telling stories and talking about the history of the area.
The benches are part of the Heritage Lottery Funded project, You Are Hear: sound and a sense of place, organised by the Essex Record Office.

The idea is that through these benches, the Essex Sounds map,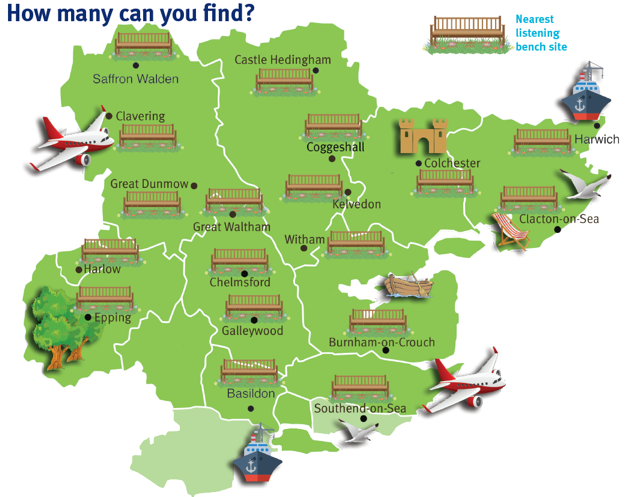 and touring audio-video kiosks, sound and video recordings will help people develop their sense of place. The Essex Record Office is digitising and cataloguing a number of recordings from the Archive to make them available online, to preserve the county's past, 'for the enjoyment, interest and benefit of future generations.'
Listening benches have already been installed in communities across Essex. Each bench plays a selection of clips from Essex Sound and Video Archive recordings – clips about the area chosen by volunteers from that community.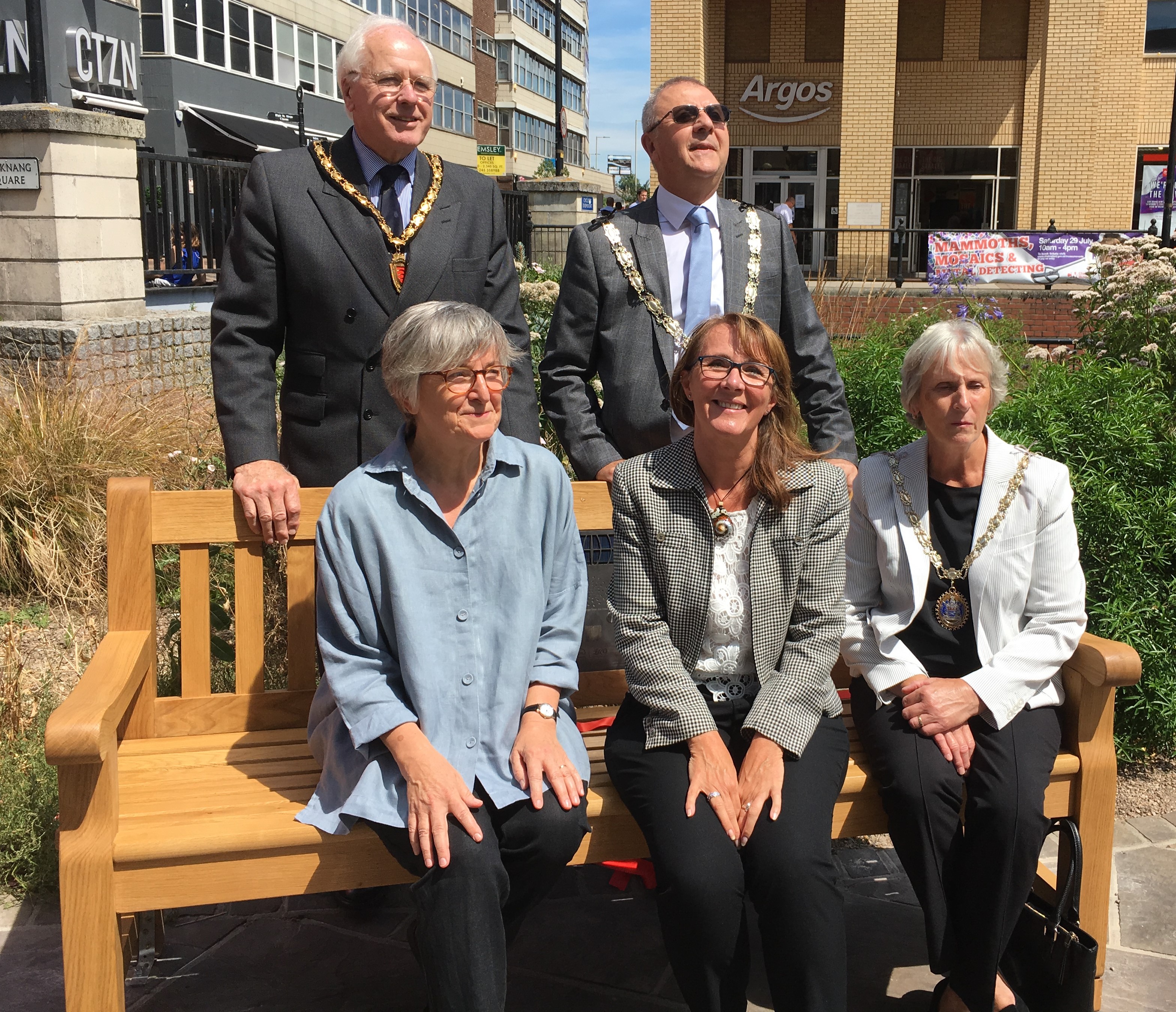 It really was a lovely occasion – and such a good idea!
Find the bench in Backnang Square, behind the Meadows shopping precinct.