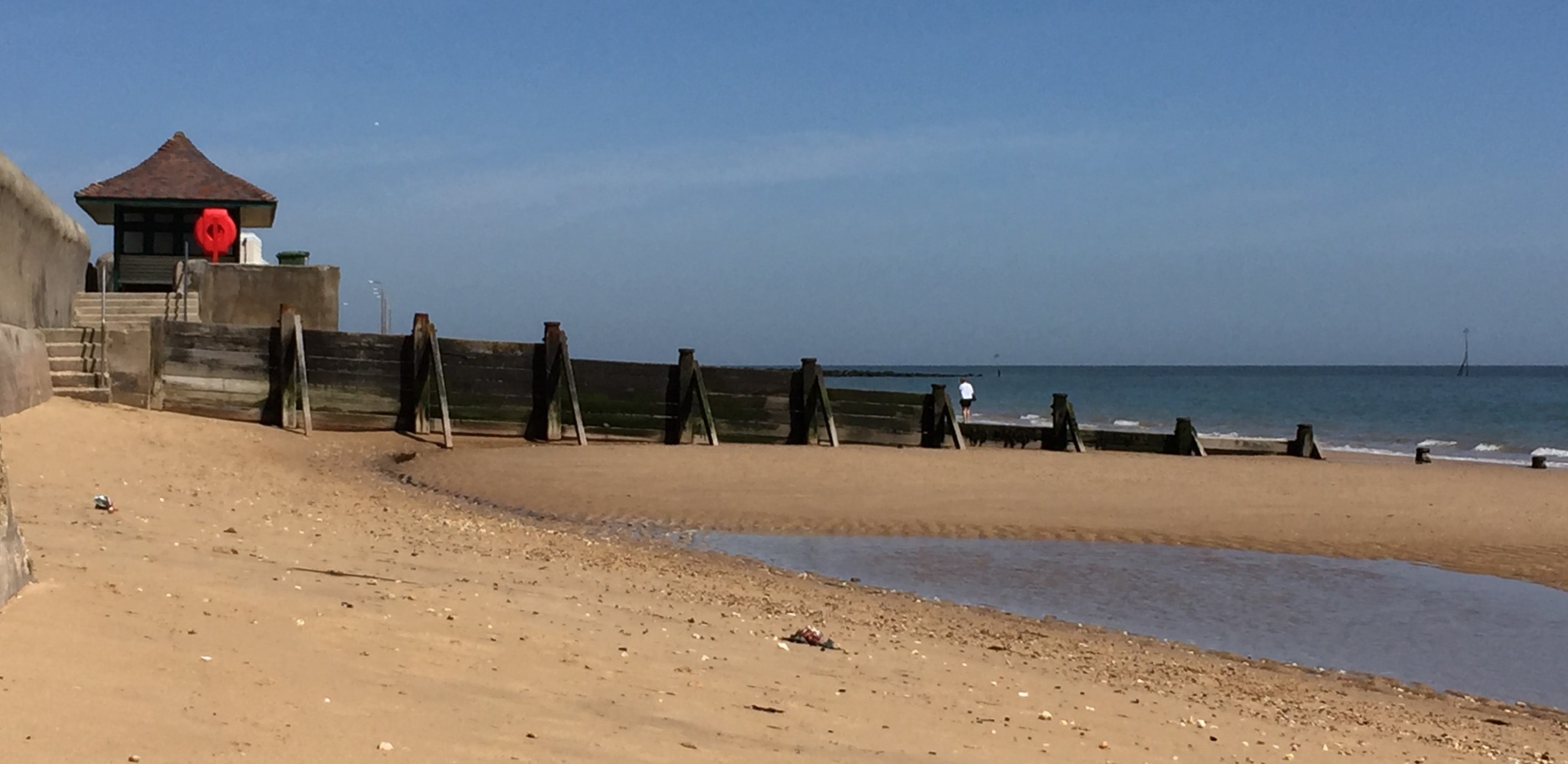 Readers of this blog will have gathered that my aged mother who was living with me, died in January this year.  Last week it was her birthday, she would have been 92.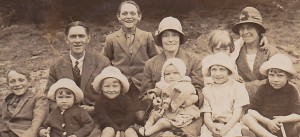 On the day, my sister, my brother and I with various partners and off-spring all met to remember mum on a day that for her and for us was always very important.
Mum was born Peggy Maxwell King, the daughter of Edwin Horace Alexander King, a tailor to the working man, and Elsie King.  There were twelve children – Peggy was born after Gladys, Jack, Sid, Honor, Iris, Don, Alec, and Vera, and before Sheila, Rita, and Beryl.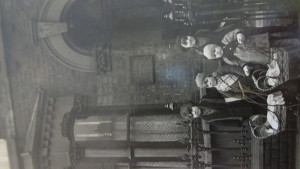 They lived in a terraced house in Leytonstone – 5 Ranelagh Road, where Peggy shared a room with Vera at the back of the house.  They were not easy times, they were not well off. Their dad made their school uniforms out of off-cuts of material from his work, Peggy had a black and white pin-striped tunic.  She was sure everyone could tell they were made of cloth for gentlemen's trousers.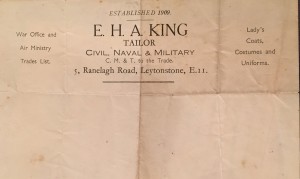 She went to Cann Hall Infants School and then Tom Hood.  She was very sporty – she had badges for netball and athletics. Unlike the rest of her family, she was a regular attender at her local church, and she was strict TT – alcohol did not pass her lips.  She was also an ardent member of the Girls Life Brigade.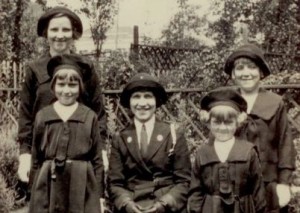 She was an autograph collector – George Formby, Nosmo King, and Henry Hall were all in her book – but her great favourite was the Street Singer, Arthur Tracy.  An American who came to England to play in the music halls she loved him.  Once she walked all the way from Leytonstone to Stratford Empire to queue for an hour to get a front row seat to see him perform.
Peggy and her sisters had had a pretty hard childhood (except for sister Iris who lived with Aunt Eva and wanted – so the others thought – for nothing).  There was not a lot of money and not a lot of love.  They had to save up for their bicycles, but then they were free to ride where they wanted.  Peggy often flew in late for meals, from a day's cycling in Epping Forest, her face all red and glowing, to be chastised by her mother.
Her love of Walton on the Naze lasted her whole life.  When she was a child the family would go there every year for their holidays – their dad would drive down on the Friday and pitch the tent and then come back for the kids who would drive down with him on the Saturday.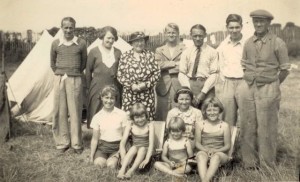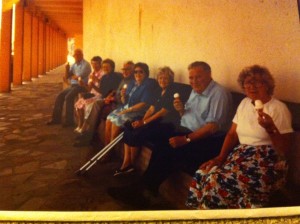 In 1939, when they were in Walton on holiday, the war started.
The younger children were evacuated from the bombing, for a time to Shenfield & Peggy had to leave school to look after the younger children.  Then they came home but the air raids were taking a toll on the family, and their Aunt Eva – with whom sister Iris lived – said, 'Come to us for a good night's sleep.  Bombs don't drop on Woodford.'
So on the night of 28 September 1940 – Vera and Rita cycled over to Woodford and the others came with their mum and dad in the car which was full of blankets and pillows.  After some discussion as to who was to sleep where – my Aunt Honor and mum swopping places in the living room – they went to bed and a bomb fell onto the house.  Their mum and dad, sister Honor and Aunt Eva, were all killed.  The other sisters were pulled out of the rubble by the A&R men, without a scratch.
After that the girls were separated for a time.  Eventually they all went to live in a bungalow in Chatham Green and mum's life in Chelmsford began.  They lived in Chatham Green until the end of the war then moved into a flat in Duke Street in Chelmsford opposite the bus station (from where in later years we used to watch the carnival procession).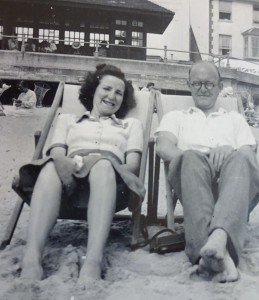 Mum worked at Cromptons and it was there she first set eyes on our dad – Alf Woodcraft, the union rep of the Amalgamated Engineering Union (AEU).
In 1947 they married, honeymooned in Walton, and moved to Ockelford Avenue, a small crescent off North Avenue, on the Boarded Barns estate in Chelmsford.  Teresa was born and then me.  We moved to the Woodhall Estate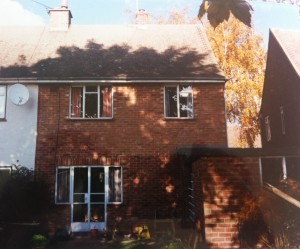 and a few years later, Edward was born.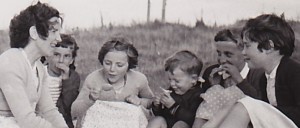 By now Alf was the District Secretary of the AEU – a full time job, with an office in London Road in Chelmsford.  Peggy didn't work – Alf was pretty traditional and didn't want his wife working.  But she went potato picking, fruit picking, even stone picking.  Gradually attitudes changed and she got a permanent job as a clerk in Chelmsford prison and later  at County Hall as a coder.
One of my best memories of my childhood is coming home from school on a rainy afternoon, the light would be on in the living room and there would be a fire in the grate, mum would be ironing and Mrs Dale's Diary would be on the wireless.  Tess and I both remember times when we were ill and were home in bed mum always bought us a comic.  For herself she liked chocolate – Cadbury's  Fruit and Nut.  Alf would buy her a bar every evening on his way home from work, with a copy of the Evening News.
In the 50s we only had a BBC TV at home, mum disagreed with advertising on TV, and Edward remembers her being appalled one day seeing a young neighbour walking down the road singing 'Murray Mints, Murray Mints, Too good to hurry mints.' She soon got over it.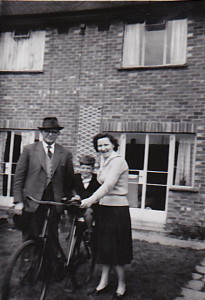 Alf left home in 1971 and Peggy was quite lonely and sad for a time – divorce was not a common occurrence on our estate.  Edward was still living at home then and remembers their Friday night TV viewing.  Take Your Pick, followed by Burke's Law.  And whenever possible, Morecambe and Wise or The Two Ronnies.  An orange would be cut into quarters with the bread knife by way of refreshment, and the peel put by the fire to dry  to serve as a fire lighter the next day, along with twisted pages of the Guardian and kindling and coal.  The skill of making a fire stood him in good stead as a student.
Peggy had very recently become a social work assistant in Braintree, working with the elderly and the job gave her great satisfaction.  One of her proudest achievements was helping two women who had been incarcerated in a mental institution since their youth – for small misdemeanours, I think for getting pregnant.  Mum got them into a small flat of their own.  She often visited them and they were gloriously happy.
And then along came the grandchildren.  What enormous joy they gave her.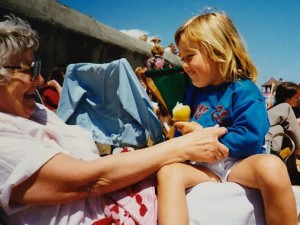 Billie remembers going to stay with grandma and having a very structured day around food, including elevenses – always a long iced bun, and later, after tea, supper – a salad sandwich with salad cream.  Every morning they would study the TV guide and plan what programmes they would watch later.  They watched all the soaps together, and when Billie went home they would ring each other up to discuss the goings on in EastEnders or Coronation Street.
Jack remembers staying and evening baths being timed round the advert breaks in their favourite TV shows.  He also had a memory of finding a bird with a broken wing in the garden.  Gently they gathered it up and put it in a cardboard shoe box filled with cotton wool.  They kept it in the shed for three days, feeding it, watching it, but then it died.
In 1994 her life changed dramatically again.  She renewed her friendship with Roy Perry.  His late wife had been a friend of hers from school days in Leytonstone, and Roy had been in the same class as her brother Don.  They married in North Avenue church and mum moved to West Mersea, a small island just outside Colchester.  Roy gave her the happiness and companionship that she had been missing for so long.  Sadly Roy died two years later.
Mum moved back to Chelmsford to live for a short while with her sister Vera but then moved into a flat in Squirrels Court – back onto the Boarded Barns estate where she had started her married life and where she had been so involved with North Avenue church.
There were so many sides to her personality.  Sister Vera once said to me that she thought of Peggy as a Romantic Rebel and I think that is a fitting description of her.  Caroline remembers visiting the house and apart from all of us just sitting reading the newspapers, remembers discussions, about politicians, the issues of the day, TV programmes.  She was very supportive of Channel 4 and regularly watched the very difficult (for some of us) documentaries that formed the Eleventh Hour slot, from Alan's department.
Billy Graham, an American evangelist who was very popular in the 50s, was a person who featured large in our childhood.  But Peggy's chosen church was Congregationalist (later the United Reformed Church) – almost as simple and austere as you can get in a religion, except perhaps for the Quakers.  She put her religious beliefs into practice.  She was a popular and dedicated Sunday School teacher – so the space under our stairs was always filled with pieces of paper and crayons and glue and the cardboard centres of toilet rolls.  We all went to Sunday School, and once a year in June we all got onto buses and coaches and went to Walton-on-the-Naze for the Sunday School outing.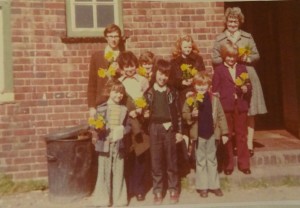 When I was sorting out her flat after she moved to London, I found little bundles of card, cut from Shredded Wheat boxes, Rennies packets, the back of birthday cards, tightly wrapped with an elastic band.  She went regularly every year collecting for NSPCC.  As children we sat round the coffee table (we had a coffee table!) counting the money, making piles of the coins.
Everyone in the 50s was aware of the A bomb and H bomb.  Peggy was a member of Chelmsford CND and would chair meetings at the Friends' Meeting House.  In 1958 she went on the first ever Aldermaston march. She wouldn't let us go on the marches until we were 12 for fear people would think we were being indoctrinated.
She was a staunch member of the Labour Party and at election times, delivered leaflets, canvassed and went knocking up in support of local candidates (of whom Alf was occasionally one).  She espoused feminism, and caused some consternation in North Avenue church when she would change patriarchal words in hymns and prayers to include women.  She became a member of Braintree Women's Aid.  She went to Greenham Common peace camp, where she had her first cup of herb tea, sitting round a camp fire.  She was also one of the Braintree Five when cuts were proposed in Braintree Social Services.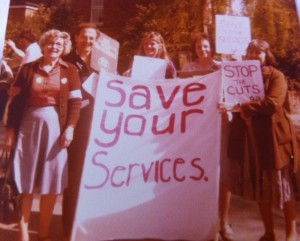 She enjoyed and advocated paying tax because it was for the good of everyone in society.
And now a question:
Why do bees hum?  When I was clearing out Peggy's flat I also found numerous little piles of cracker jokes.  She loved them.
This last picture is very typical of Peggy.  She has just finished her Shredded Wheat – she ate it every day, almost till the day she died.  Beside her is a jar of Shredless Marmalade and a slice of toast.  She is doing the Guardian crossword, while on the table is a copy of the Daily Mirror, 'the paper that cares', waiting to be read.  Contentment.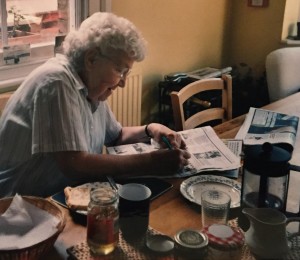 And why do bees hum?
Because they don't know the words.