Paris is awash with sunlight and rain.
And it's Christmas.  Christmas lights are everywhere.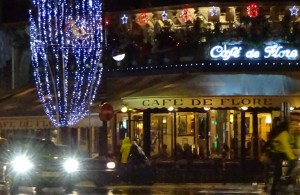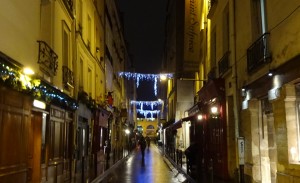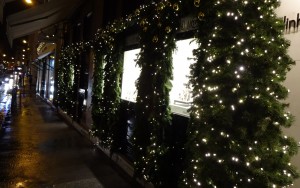 There is an exciting Climate Change conference COP 21 in Le Bourget on the northern side of Paris, taking climate change seriously, looking for solutions.
And yet in the heart of Paris there is uneasiness.  The results of last week's first round of elections were devastating.  The Front National has come top of polls in half of France's regions.  It is strongly anticipated that Marine le Pen will win next Sunday's second round in the northern region of Nord-Pas-de-Calais-Picardie.
Seeing Marine Le Pen interviewed on prime time TV – France3 on 8 December – was chilling.  She has tasted the blood of success and she wants more.  Nor-Pas-de-Calais-Picardie is an extremely poor area where Le Pen appeals to those who feel they have been forgotten and Marine Le Pen has talked of the poor and the down-trodden.  Interestingly, her niece Marion Marechal-Le Pen is appealing to a different group.  She calls to business chiefs, talks of increasing grants to business and makes much more overtly anti-immigrant statements.
Deals are being done, Left and Right are agreeing not to stand to enable victory to the other against the Front National.  Everyone is being urged to come out and vote on Sunday (Aux Urnes Citoyens!).
People are being confronted with the possibility of having to vote against their instincts to keep out the FN (memories of the presidential election of 2002 between Jaques Chirac and Jean-Marie Le Pen).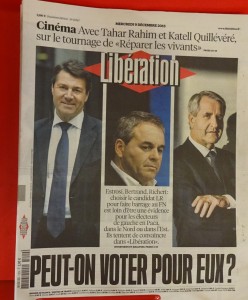 And still the memory of the dreadful events of 13 November are in everyone's minds.  The search continues for suspects, the focus shifts from town to town, philosphers ruminate on the aftermath.

The Mairie in the VIth is bathed in blue white and red light.
Sadness everywhere.  But hope springs.