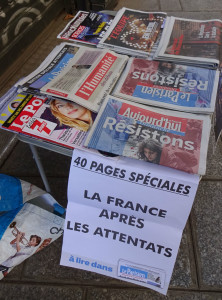 We are in Paris. My sister came to the London house on Friday morning  to look after Aged Mother.
We arrived on Friday afternoon, 13 November, and sat in the studio – exhausted from the last two months of 24 hour mother-care – with the window open, listening to the sound of a trumpeter in the street below, playing mournful jazz.  It was wonderful to be back in Paris. At 6.30 C and I took the Metro to Strasbourg Saint Denis to meet American friends Anne, Olga and Vola, for dinner.  On the Metro I realised I had come out without my phone, my brother-in-law rang C – the electricity in our house had gone.  My mum has a hospital bed which is electric to keep the mattress perpetually moving, to prevent bed sores.  The lighting problem was resolved with candles, lamps and the knowledge that others in the street had the same problem.  An hour later they texted to say the power was back on.
At about 20 to 9  we had finished our meal – Texan bbq fare rounded off with pecan pie and a glass of Bourbon
– and someone suggested a stroll along Canal St Martin, to see the evening lights, but I was too tired.  So we ambled back to the Metro, made sure Olga and Vola had a carnet of Metro tickets for their sightseeing the next day, and home we went.
We knew nothing – we were in bed fast asleep when the buzzing of my phone woke us up.  It was 2am, and my aunt was ringing from Chelmsford.  Immediate thoughts were – something's happened to my mum, to my aunt, what? what? We missed the call.  I had two texts saying 'Are you OK?'  We didn't know what it was.
We looked on Twitter, we switched on the TV.  The stories were confused but the message was clear – something terrible had happened in the centre of Paris.  People were being advised to stay indoors.  Shakespeare & Co tweeted that they were sitting in the dark with Americans sending reassuring messages home
We also switched off the lights.  There were no other lights on in the buildings in the street.  I spoke to my aunt, I replied to my texts, watched the TV. The streets were quiet, no traffic, no revellers laughing and shouting in the street below, as usual on a Friday night.
Saturday morning – it wasn't clear what the advice was.  The museums were closed, we knew, and the Eiffel Tower.  Demonstrations were prohibited.  President Hollande had announced a state of emergency. The streets outside were still quiet, although buses were running and we could feel the rumble of the Metro under the building.  We made it to Monoprix where there were not as many Saturday shoppers as usual.  We walked down to a local cinema and found that it would remain closed all day.  Local cafes were full, people eating, talking, carrying on.  Back in our area we dropped into Chez Georges our local bar, for a glass of white wine. For a Saturday lunchtime it was very quiet, but there were conversations in low voices, small jokes, greetings to newcomers, and a plate of bread and saucisson.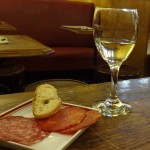 It was good to be out, being with others, silently sharing horror at what had happened.
This morning, Sunday, we went for a walk to the Hotel de Ville.  It was a wonderfully bright, sunny morning.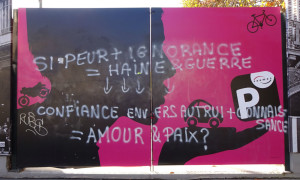 There were smatterings of tourists, the bookstalls on the banks of the Seine were open, flying the French flag.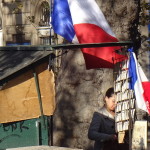 We crossed the river towards Notre Dame.  The tourist shops were open but there were fewer people.  Police cars were everywhere.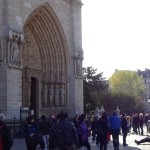 Journalists were interviewing people standing in the queue to go into the church,
armed police and soldiers mingled in the crowd.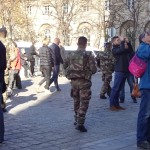 Occasionally police sirens wailed, at one point a big truck, looking like a prison-van went past followed by a large van labelled 'police horses'.
Outside Shakespeare and Company disappointed tourists gathered to read the notices pasted on the window.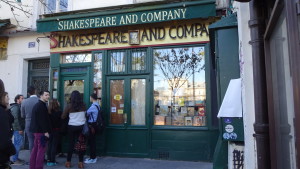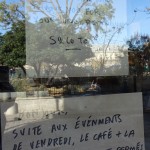 The issues of last week seemed, temporarily, irrelevant.  But on consideration, vitally important.
And still cafes and bars were open, and, sur les terraces, waiters were waiting.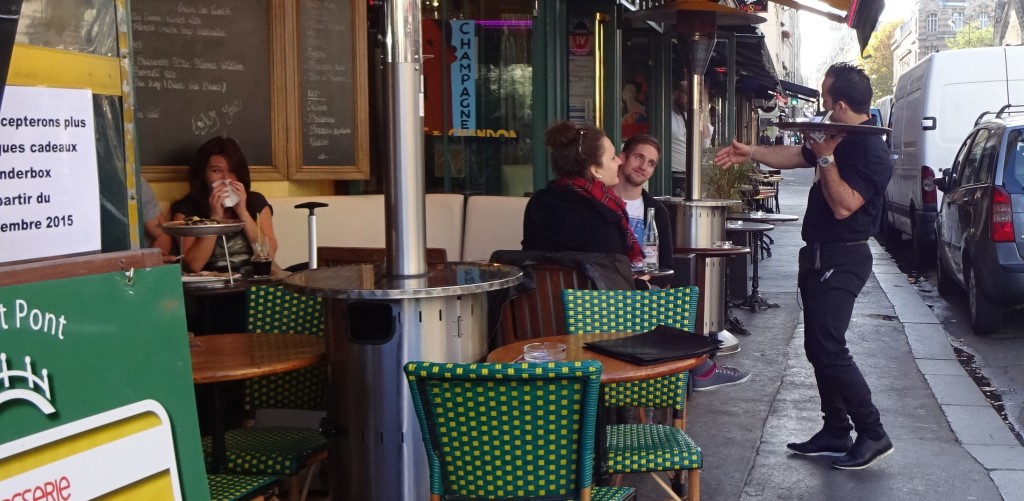 On the doors and windows of bars and shops were messages of supportand defiance.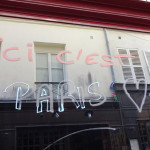 It is a terrible thing.  Heartbreaking.