With a Wurlitzer in the corner and the 45s specially sent over from St Louis Missouri (thanks to Bill Greensmith), the stage was set for a great party for a book launch.  A Sense of Occasion was about to hit London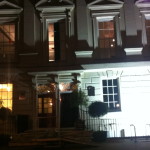 Guests flocked to Garden Court Chambers from far and near – France, the States (OK – several years ago), Dover, Leicester, Wood Green.  The wine flowed, the Twiglets crunched – and the book sold!
There were at least three people in the room whose names were Christine (and another one who had trouble navigating her way round Lincoln's Inn Fields, but that's another story).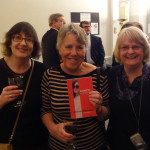 There was a great prize draw with magnificent prizes – who would not want to win a mug depicting the cover of the book, or a pen with the same image? and competition was naturally fierce.  The winners behaved with perfect modesty and stashed their booty into (suspiciously) large bags immediately.
It's always difficult to know exactly what to read at a book launch – you want to give a flavour of the book but it needs to be a passage that has a logic of its own, a beginning, a middle and an end – and with short stories that's difficult because they are already quite tight in structure.   So I chose 'The Other Aldermaston March' – which has within it the story of what happened to my mum and her sisters during the Blitz, the night they went to to their aunt's in Woodford to have a bath, and a bomb fell onto the house.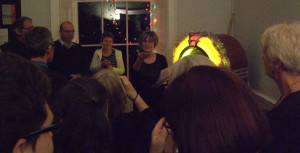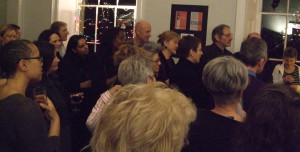 After the reading, the talking got louder, the music got stronger and the jukebox became the centre of attention.  Rightly, because this was an evening about the 60s.  Linda Lewis chose a few discs, assisted by ace hairdresser Frank Casali, and then there was dancing – but by then the pictures had to stop.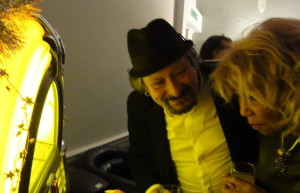 You can buy A Sense of Occasion here.