I have never been a great fan of Matisse's cut-outs.  I like his paintings very much.  But the dancing blue nudes have never done much for me.  But I like to keep an open mind – several thousand visitors can't be wrong – and so we made a visit to Tate Modern to see the exhibition – which ends on Sunday. But apparently open for 36 hours from tomorrow!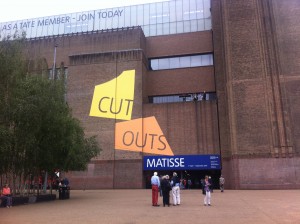 Henri Matisse (1869-1954) began using cut-outs in the last 17 years of his life.  The method began as a way of planning his pictures but as his health failed the cut-outs became the image itself.  With this new information – what did I know of his intentions?  – each picture became something exciting, energetic, fluid.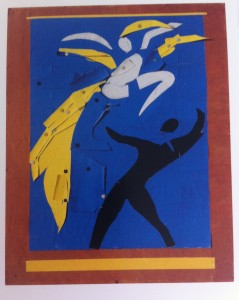 The images – sometimes with the pins holding the pieces in place – shiver with muscle, power and control. The dancers leap from the wall, heads thrown back, arms flung wide.  The Knife Thrower, the Toboggan, the Dragon slide, shimmer and slither.  It is extraordinary to think he has created these vibrant pictures with a few pieces of painted paper and a pair of scissors.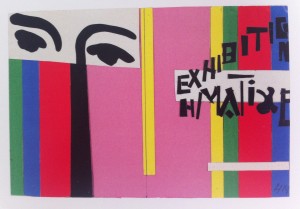 Matisse used this innovative medium in every way imaginable.  His home was his studio and his gallery.  He lived with his images.  He created book covers, illustrations, carpets (for Alexander Smith Carpets) and stained glass windows.
The last room in the exhibition is titled Christmas Eve and displays a cut-out model and the stained glass it became, commissioned for the Time-Life Building in New York.  Bright sharp colours on a Christmas theme.  About the connection between stained glass windows and his cut-outs Matisse said that he cut out his paper in the way you would cut glass.  The difference is that with the cut-outs you were trying to reflect light.  Arranging glass had to be done differently because the light was shining through.
The light came shining through for me.
This is a fascinating, uplifting exhibition.  Catch it now.  Go after the NHS march and rally in Trafalgar Square on Saturday!
And afterwards have a discussion about the exhibition over a very good cup of coffee in the coffee shop with the wonderful view of the Thames – on Thursday the sky-line looked almost, fittingly, Parisian.