Ceret – town of 7,500 inhabitants, in the heart of the Languedoc-Roussillon region of France, at the foot of the Pyrenees, last week.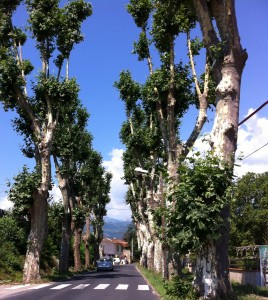 We chose to go to Ceret because it was an interesting looking place in a part of France we didn't know. We noticed there was a Musee d'Art Moderne and thought that was an added extra, somewhere interesting to visit, particularly if it rained.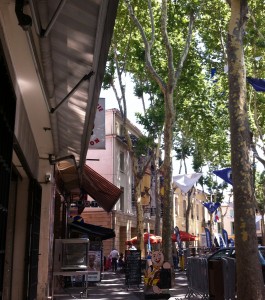 It did rain.  We visited the museum – a wonderful, large light building, on this occasion filled with work on the theme of bull fighting, for which Ceret is well known.  There was Picasso after Picasso, ceramics, sketches, paintings, a room where children could explore the images, dress up and paint the capes and moves of the toreadors.  It was difficult not to be appalled by the cruelty of the subject but also impressed by the extraordinarily evocative work we were seeing.  But as well as the paintings of bullfights and matadors there were many, loving images of the town, so much so that there are copies of those paintings placed around the town, next to the building or view they represent.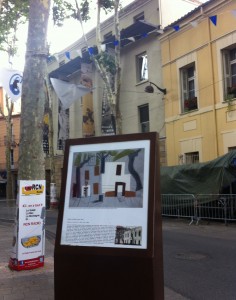 And then, one evening, sitting on a balcony looking out at the mountains,
I opened an email from Alan Waltham, supporter, protagonist and defender of the East London Group, sending me this catalogue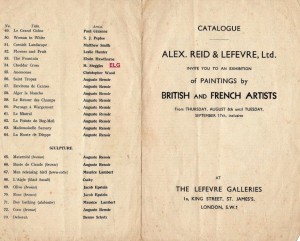 from the Lefevre Galleries, St James's, London SW1 – the year 1935. An exhibition of the paintings of, amongst others, the East London Group.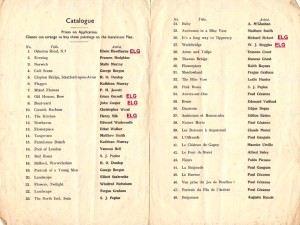 What a wonderful coincidence to receive this email in the place where we were, Ceret – the home of some of Picasso's most iconic work.  What I love about the catalogue, is the almost casual way the work of the East London Group is – quite rightly – placed beside that of those we now think of as great.  As well as Picasso, the Lefevre Gallery was exhibiting paintings by Renoir, Degas, Cezanne, Monet.  And as in Ceret, the paintings by the East London Group, successfully represented the town they loved.
Thanks to Alan Waltham for his fascinating story and generous assistance providing information about the East London Group.
Read more about my trip to the Pyrenees – To the Mountains – on my blog The Paris Train