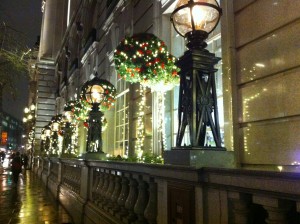 All over London the lights were on.  The hotel in High Holborn, where Michael Jackson once stayed, was lit up in shades of green and red.
But it was raining. Outside London we heard news of flooding, power cuts, freezers warming up, Christmas dinners in jeopardy.  Emails of concern were sent to friends in Kent, Cumbria – and Chelmsford.  You never know.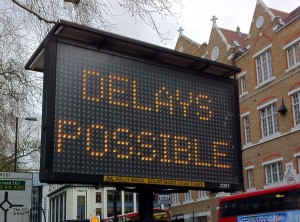 In London, however, we kept snug and warm.  The cards were written, the presents wrapped. A threatened court hearing on the day before Christmas Eve was adjourned to be thought about another day.  More presents were wrapped.
On Christmas morning there was egg and bacon for breakfast.  Delicious.  Especially with the chocolate orange.  And a kindle.  What to read?  Currently the Waterstone blog and something from the Guardian called All the Rebel Women which is not quite as exciting as I had hoped.  After last minute tidying and discussion about when is a capon like a turkey – answer, when it's in the oven – the Chelmsford contingent arrived with the Muswell Hill crew.  Christmas gifts were exchanged.  When lunch was on the table, crackers were pulled.  Jokes were read – some several times, not because they were good but because they just were.  When is a boat like snow?  When it's adrift.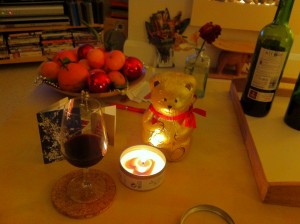 It was home time.
Boxing Day brought roast beef and more crackers in Highbury.  The jokes were no better and some from Christmas Day were repeated.  Not necessarily correctly.  When is a capon like a turkey?  When it's a laughing stock cube.
And onto the pantomime.  Sleeping Beauty at the Park theatre.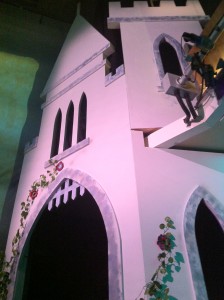 Who knows about the Park theatre?  People you mention it to say – Oh, how interesting.  Where is it?  The answer is two spits from Finsbury Park station, the Wells Terrace end.  A bar, with coffee, snacks, wine, beer, a lift, friendly people.  And what a fun pantomime – oh yes it was!
To avoid the threat of needles on spinning wheels, Sleeping Beauty lived in a land of soft fabrics.  At the interval safety flannels came down. But the handsome prince lived in a treacherous world of embroidered quilts and haberdashery.  There was singing, shouting, audience participation (for small people), the triumph of true love and we came home with free sweets.   Oh yes we did.